With Transparency & Technology
PACRIDGE develops unique farming, Sonic Milling and seed cleaning technologies for better regenerative agriculture, accountability and products
The ground-breaking True Crops™ app is the world's first platform to empower farmers with radical transparency and hyper connectivity to facilitate a fair and sustainable marketplace.
With a state-of-the-art technology, True Crops™ is revolutionizing the farming community, and the way product moves from seed to shelf.
Live Market Pricing
Track prices across regenerative and conventional commodities
Improve Your Crops
Stay informed on crop performance and estimated value
Instant Contracts and Deliveries
Establish contracts and deliveries in-app for your harvested crops
Crop Coins
Loyalty program to earn more cash back for regenerative certification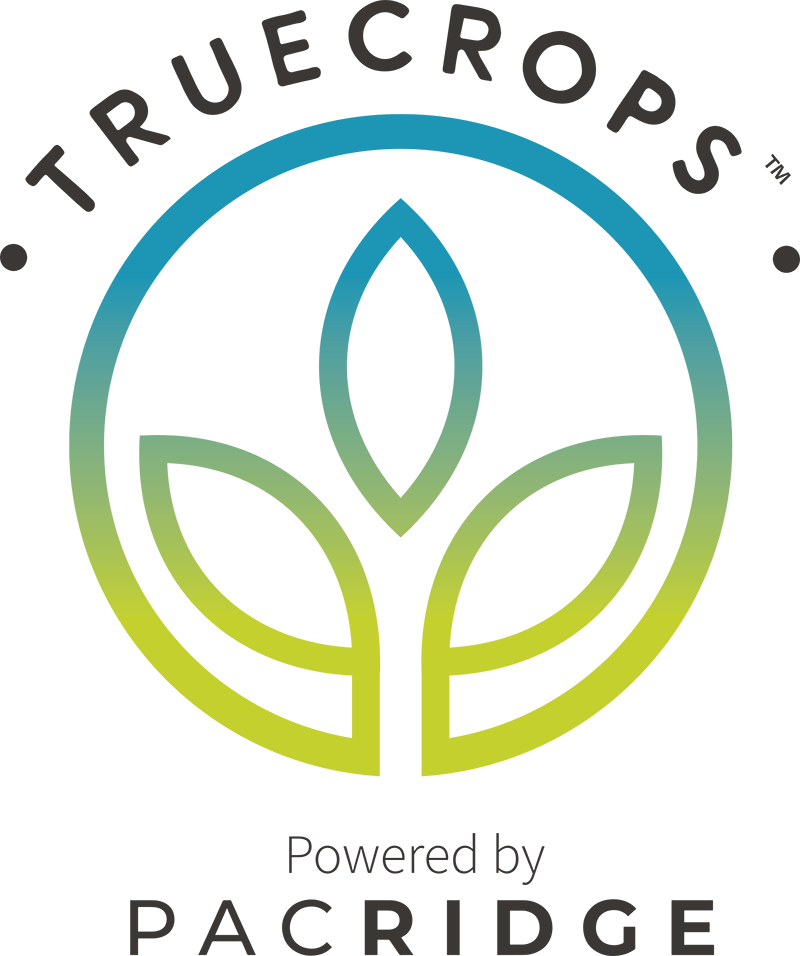 Powered by the idea of radical transparency and hyper-connectivity, the True Crops™ app takes farming into the future while looking to time-honored traditions of regenerative farming to protect soil health, water purity and product quality.
With every innovation and technology advancement, we strive to empower regenerative farmers and retailers in their quest to create sustainable and profitable businesses through transparency, validation, quality and access.
Globally Patented Sonic Milling™ Technology for Nutrient Rich Beverages
By harnessing the power of water and energy, we create microscopic air bubbles that break apart plant-matter; enabling us to create base or beverage from the whole grain, nut or seed.
Water and inputs are circulated through our patented cavitation tanks, and pumped through a venturi system, from a high pressure to low pressure environment.
Creating unstable air bubbles, which in turn collapse to create shockwaves of sonic energy, particulating / breaking down particles, while creating controlled heat.
Better Nutrition
Higher protein, fiber & essential nutrients
Zero waste, water creation
Seed to bottle traceability
Available gluten free, organic, or conventional
Our patented cavitation process separates products & produce
highly digestible odorless protein, which yields the highest price per metric ton (mt)
Plant proteins, high fraction starches and fibers and nutrient rich beverage concentrates
Plant-based beverages, plant-based meats, bakery, cereals & snacks, pharmaceuticals, health food, pet food/care, paper, packaging, bioplastics, & more!
Fully Integrated Farm to Market Seed Cleaning Plant
Grain Cleaning
1 – 100 lb. vertical form filled finished packaging line
12 month projected $36M CAD Sales Rev
Bulk export and domestic source loading
6000+ store domestic and off-shore retail sales footprint
CGC bonded operation local supply team
In house logistics, trade and sales desk with $1 B in previous
business experience.
Dry Fraction Protein Plant
8 mt/hr Production Rate
(High fraction starch 5.2 mt/hr; Protein 2.4 mt/hr; Fiber 0.4 mt/hr)
Dry fraction clean label products
Plant based protein, high fraction starch and fiber
Diverse product sales portfolio:
Pharmaceuticals, Food & Beverage; Industrial and Commercial Packaging; Pet Food/Care
At full capacity our facility will create:
24,000 mt of protein concentrate per year
50,000 mt of high fractionated starch (HFS) per year
6000 mt of fiber
Biological inputs (IP) improving soil & plant health for superior nutrient value through seed treatments and bio stimulants.
Proprietary treatment for aphanomyces
Healthier soil
Cleaner water
Lower synthetic fertilizer usage
Elimination of harmful pesticides/fungicides
Cleaner food
Carbon reductions
Our team at Pacific Ridge is always happy to answer any questions and inquiries you may have.
Hours of Operation
Monday - Friday
Saturday
Sunday
8am - 5pm
Appointment Only
Closed